Shaw Brothers screen legend and classic character actor Tien Feng passed away October 1, 2015 at age of 87.  As a tribute, here is my list of recommended kung fu movies that featured Tien Feng.  Born Feng Tian Tian Yu Kun in Henan in 1928, he studied stage acting in high school.  In 1960 he started his career at the illustrious Shaw Brothers studios where he acted in dozens of movies.  His character was typically the same (as you'll see below), usually a father figure or sifu of almost Confucius-like standards: stern, wise, moral and compassionate.  In the 80's he moved to Taiwan and went back into theater.  Last year he was awarded the Golden Horse Lifetime Achievement Award for his illustrious career.
To clarify what made consideration for the list, I'm only reviewing kung fu movies, since that's the focus of my fandom.  Also, his extensive library is huge (around 118 films), so I need to fully disclose I haven't seen a majority of them.  These are my picks of the ones I've seen.  Also, Tien Feng wasn't a martial artist, so this isn't a selection of his ass-kickingest movies, but instead his great character performances.  Finally, he was mostly a supporting character in most of these movies (as he was in most Shaw Brothers kung fu flicks) so don't expect to see him hog too much time on the screen. With that said, here is a great collection of movies I think you'll enjoy.
The One-Armed Swordsman
starring Jimmy Wang Yu, Tien Feng / directed by Chang Cheh
This movie may have launched Jimmy Wang Yu to stardom, but for me it was the first movie that put Tien Feng on my map.  Tien Feng is Qi Ru Feng, the loving master who takes in his servant's son Fang Kang (Wang Yu) after his servant is brutally murdered protecting Ru Feng.  His iconic stern but compassionate grace made me instantly sympathize with his character, as he would do for many movies to come.
Five Fingers of Death / King Boxer
starring Lo Lieh, Tien Feng / directed by Chang-hwa Chung

This classic movie is often credited for introducing the kung fu craze in America.  Chi-Hao (Lo Lieh) is a young martial artist who must get taught under a superior martial arts master so he can exact revenge against the local warlord Meng Tung-Shun (Tien Feng) in an upcoming tournament.  Feng gets a significantly larger role in this film, and really gets your blood to boil as the evil Tung-Shun in his quest for domination of the Martial World.  What's especially unique about this film to the Shaw Brothers fan was seeing Lo Lieh cast as the hero while Feng played the evil villain — both being foils to their typical roles.  This movie is also considered a classic, so should be a requirement for any kung fu fan.
Fist of Fury aka The Chinese Connection (1972)

starring Bruce Lee, Tien Feng, Nora Miao / directed by Lo Wei
Though I always associate Feng w/ Shaw Brothers, he did work at many other studios, including Golden Harvest. This Bruce Lee classic (that is on our kung fu starter kit) also features Tien Feng.  After their kung fu school's  legendary sifu Huo Yuanjia dies, Chen Zhen (Bruce Lee) comes back to pay his respects, only to find out he may have died under more suspicious causes.  Tien Feng is Fan Junxia, the senior student of the Jingwu School who basically is left in charge after their sifu dies.  Once again, he provides the voice of reason and compassion in place of their master in one of Bruce Lee's best movies.
The Young Master (1980)
starring: Jackie Chan, Yuen Biao, Tien Feng, Shih Kien, Lily Li / directed by Jackie Chan / action by Jackie Chan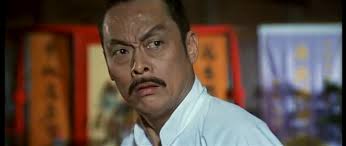 Dragon (Jackie) and his brother Tiger (Venom Mobster Wei Pei) are in a Lion Dance competition representing their school, led by the venerable Tien Feng.  They lose, only for Dragon to find out that his brother threw the match.  Dragon vows to return their prodigal son back, but only more trouble ensues as Tiger continues to make terrible decisions.  The cast is great, featuring all-stars like Yuen Biao and the classic villain Shih Kien as a local sheriff leading a very amusing subplot.  Tien Feng has a lot of stern fathering decisions to make dealing with his rebellious student Tiger and Dragon's false allegations.  Another great showcase of martial arts talent surrounded by great Hong Kong heavyweights.
Dragon Lord (1980)
starring Jackie Chan / directed by Jackie Chan / action by  Jackie Chan

Though not a large role, Feng once again is the stern but benevolent father of Dragon (Jackie).  Dragon Lord is an amazing movie with some crazy scenes that don't contain martial arts but are just as fun to watch, including a dangerous pyramid climb and an amazing all-out shuttlecock sporting event.  A very fun movie during Jackie's breakout phase, DRAGON LORD was apparently intended to be a sequel to THE YOUNG MASTER but got retooled — there are definitely similarities abound in plot and cast.
I reviewed Tien Feng's filmography and picked out my top picks of one of my favorite character actors.  His extensive library is incredibly huge, and I've only scratched the surface.  Honorable mentions go to 14 AMAZONS and A BETTER TOMORROW, though the latter I don't count as a kung fu movie.  I plan on changing that personally for myself by continuing to watch all his movies.   If you have other ones you recommend, comment below!